Analysis of Butyrylcholinesterase Interactions with Novel Inhibitors and Reactivators – AnalyseBChE
Project participants:
Anita Bosak, Tena Čadež, Maja Katalinić, Nikolina Maček Hrvat, Ana Matošević, Goran Šinko, Tamara Zorbaz (Biochemistry and Organic Analytical Chemistry Unit),
Suzana Žunec (Toxicology Unit),
Anamarija Knežević (Laboratory for stereoselective catalysis and biocatalysis, Ruđer Bošković Institute),
Zoran Radić (Skaggs School of Pharmacy and Pharmaceutical Sciences, University of California at San Diego),
Vesna Gabelica Marković (Faculty of Chemical Engineering and Technology, University of Zagreb)
3 Oct 2018 – 2 Oct 2022
PROJECT ABSTRACT
The inhibition of the enzyme butyrylcholinesterase (BChE) in human tissues by binding of compounds to its active site serine is important for the detoxification and scavenging of xenobiotics such as organophosphates (OP) as well as for the metabolism of pro-drugs and drugs such as the carbamate bambuterol and the phenothiazine ethopropazine. Despite of the importance of BChE, its kinetic reactions were investigated mostly as comparative studies on the related enzyme acetylcholinesterase (AChE), which has a vital function in cholinergic neurotransmission. Moreover, reactivators of inhibited BChE, as well as drugs for the treatment of neurodegenerative diseases were empirically synthesized before the BChE crystal structure was resolved. Due to specific structural requirements, its binding affinity, inhibition and reactivation rates have not been rigorously investigated. It is known from our recent analyses that reactivation rates are influenced by experimental design and reactivation assays need to account for side reactions – oximolysis, reversible inhibition, and adequate dilution in Ellman reaction in order to effectively quench the reactivation reaction. Therefore, this project utilizes known and new compounds to gain a better understanding of the mechanistic basis of cholinesterase family interactions and their limitations. The biochemical mechanism of enzyme interactions will be comprehensively studied on a molecular level with in silico, in vitro, and ex vivo methods. Kinetic constants of the studied interactions will be determined based on known kinetic models, while in need of unusual regression analysis new kinetic models will be developed. These comprehensive analyses will explain structural requirements for compounds interacting with BChE and gain a platform for synthesis of reactivators of phosphylated BChE and potentially active drugs in disorders that involve BChE inhibition. Many of the findings that should arise from this project will impact the mechanisms of hydrolytic catalysis, extending beyond the field of cholinesterases.
SELECT PUBLICATIONS
OTHER PUBLICATIONS
Available at: https://pubmed.ncbi.nlm.nih.gov/?term=Kovarik+Z&sort=date
PUBLIC/INVITED LECTURES
Tamara Zorbaz, David Malinak, Tereza Hofmanova, Nikola Maraković, Suzana Žunec, Nikolina Maček Hrvat, Rudolf Andrys, Miroslav Psotka, Antonio Zandona, Jana Svobodova, Lukas Prchal Sanja Fingler, Maja Katalinić, Zrinka Kovarik, Kamil Musilek. Halogen substituents enhance oxime nucleophilicity for reactivation of cholinesterases inhibited by nerve agents. European Journal of Medicinal Chemistry, 238 (2022) 114377.
Tena Čadež, Dora Kolić, Goran Šinko, Zrinka Kovarik. Assessment of four organophosphorus pesticides as inhibitors of human acetylcholinesterase and butyrylcholinesterase. Scientific Reports, 11 (2021) 21486.
T. Zorbaz: Pharmacodynamic and pharmacokinetic evaluation of morpholine-3-hydroxy-2-pyridine oxime, centrally active antidote for nerve agent poisoning. HDBMB2019 Congress "Crossroads in Life Sciences", Lovran, Croatia, 2019.
Z. Kovarik: Nerve agent bioscavengers based on an efficient oxime-assisted reactivation of cholinesterases. 3rd International Conference CBRNE Research and Innovation, Nantes, France, 2019.
Z. Kovarik: Novel oximes in counteracting organophosphates exposure. The 17th Medical Chemical Defense Conference "Chemical Warfare Agents – old problems and new challenges", Munchen, Germany, 2019.
T. Zorbaz: Novi pristup analizi oksima dizajniranih za zaštitu središnjeg živčanog sustava pri trovanju organofosfornim spojevima, IMROH, 3 Dec 2018.
A. Matošević: Synthesis of biscarbamates as potential selective inhibitors of butyrylcholinesterase. 2nd Mini-symposium of Medicinal and Pharmaceutical Chemistry, Young Medicinal Chemist`s Meeting. 6 Nov 2018
AWARDS
Z. Kovarik: Annual Award for the Outstanding Contribution to the Molecular Life Sciences, Croatian Society of Biochemistry and Molecular Biology (HDBMB), 2018.
Z. Kovarik: Annual Award for Science, natural sciences; Ministry of Science and Education, Croatia, 2018. (PDF)
Z. Kovarik: Panel Excellence Award, NATO, Science and Technology Organization.
T. Zorbaz: Poster Award at the Congress of the Croatian Society of Biochemistry and Molecular Biology HDBMB2019 "Crossroads in Life Sciences", Lovran, Croatia, 2019.
Panel Excellence Award from The North Atlantic Treaty Organization and Annual Award from the Croatian Society of Biochemistry and Molecular Biology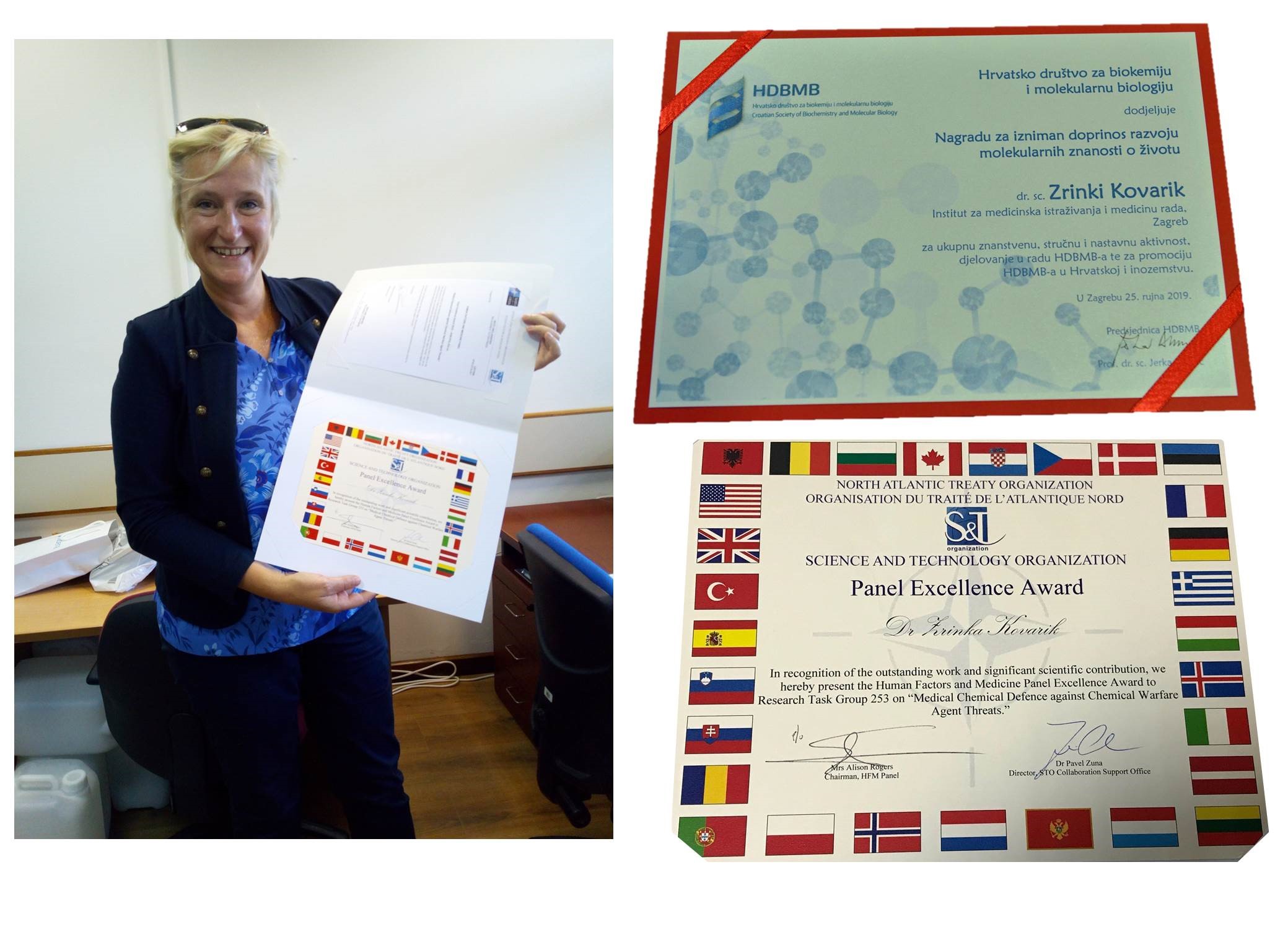 Poster Award at the Croatian Society of Biochemistry and Molecular Biology Congress "Crossroads in Life Sciences", Lovran, Croatia (25-28 Sep 2019)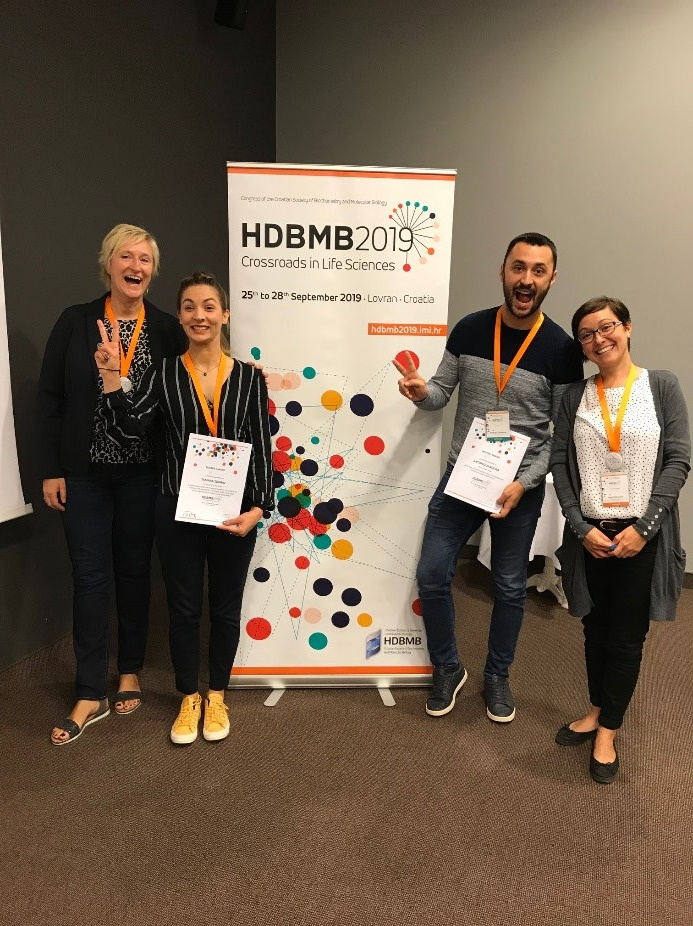 ---