Archives of Industrial Hygiene and Toxicology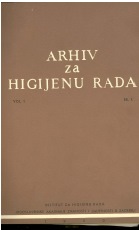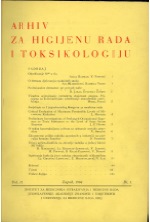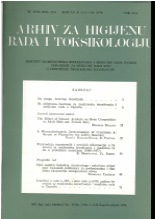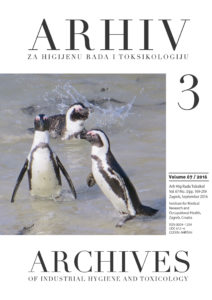 About
Archives of Industrial Hygiene and Toxicology (abbr. Arh Hig Rada Toksikol) is a peer-reviewed biomedical scientific quarterly that publishes contributions relevant to all aspects of environmental and occupational health, toxicology, and radioecology. Manuscripts are accepted on the understanding that they are contributed to this journal alone.
The journal publishes scientific papers, professional papers, reviews, short communications, case reports, observations, technical papers and letters to the editor. Scientific papers should be written in English, and manuscripts in other categories may be in either Croatian or English. Announcements, book reviews and meeting reports are also accepted, and may be written in Croatian, English or Slovene.
Authors are invited to submit their manuscripts at the following LINK.
Archives is a member of COPE – Committee on Publication Ethics.
Impact Factor (2019): 1.727
5-year Impact Factor (2019): 1.777
First year of publication: 1950
Frequency (annual): 4
Scientific disciplines and subdisciplines: Natural Sciences; Biomedicine and Healthcare; Basic Medical Sciences; Public Health and Health Care; Biotechnical Sciences; Psychology;
Copyright: Institute for Medical Research and Occupational Health, Zagreb, Croatia
Parts of the contents such as figures and tables may be reproduced without prior permission, provided reference is made to the source.
Annual subscription to the printed version (postage included):
Europe Eur 70.00; overseas countries Eur 85,00
Slovenian Society of Toxicology Eur 30.00
Full text articles online available for free.
Editorial Board
PUBLISHER
Institute for Medical Research and Occupational Health, Zagreb, Republic of Croatia
EDITOR IN CHIEF
Nevenka Kopjar
ASSISTANT EDITORS
Irena Brcic Karaconji
Jelena Macan
REGIONAL EDITOR FOR SLOVENIA
Marija Sollner Dolenc
MANUSCRIPT EDITOR & EDITORIAL ASSISTANT
Dado Cakalo
COPY EDITORS
Dado Cakalo
Makso Herman
TECHNICAL EDITING & LAYOUT
Nevenka Kopjar
Makso Herman
STATISTICS EDITOR
Jelena Kovacic
CROATIAN LANGUAGE REVISION
Ivanka Senda
SUBSCRIPTIONS
Vesna Lazanin
EXECUTIVE EDITORIAL BOARD
Ivan Bešlić (Croatia); Tomislav Bituh (Croatia); Adrijana Bjelajac (Croatia); Irena Brčić Karačonji (Croatia); Selma Cvijetić Avdagić (Croatia); Domagoj Đikić (Croatia); Azra Huršidić Radulović (Croatia); Ivan Kosalec (Croatia); Jelena Kovačić (Croatia); Zrinka Kovarik (Croatia); Jernej Kužner (Slovenia); Ana Lucić Vrdoljak (Croatia); Jelena Macan (Croatia); Marin Mladinić (Croatia); Mirjana Pavlica (Croatia); Branko Petrinec (Croatia); Alica Pizent (Croatia); Marija Sollner Dolenc (Slovenia); Maja Šegvić Klarić (Croatia)
ADVISORY EDITORIAL BOARD
Mohammad Abdollahi (Iran); Biljana Antonijević (Serbia); Michael Aschner (USA); Stephen W. Borron (USA); Vlasta Bradamante (Croatia); Petar Bulat (Serbia); María Elena Calderón Segura (Mexico); P. Jorge Chedrese (Canada); Jagoda Doko Jelinić (Croatia); Vita Dolžan (Slovenia); Damjana Drobne (Slovenia); Hugh L. Evans (USA); Zdenko Franić (Croatia); Radovan Fuchs (Croatia); Corrado Lodovico Galli (Italy); Lars Gerhardsson (Sweden); Milica Gomzi (Croatia); Andrew Wallace Hayes (USA); Michael C. Henson (USA); Jasminka Ilich-Ernst (USA); Mumtaz İşcan (Turkey); Ljiljana Kaliterna Lipovčan (Croatia); Vladimir Kendrovski (Macedonia); Sanja Kežić (Netherlands); Lisbeth E. Knudsen (Denmark); Samo Kreft (Slovenia); Dirk W. Lachenmeier (Germany); Andreas L. Lopata (Australia); Marcello Lotti (Italy); Ester Lovšin Barle (Slovenia); Richard A. Manderville (Canada); Velimir Matković (USA); Saveta Miljanić (Croatia); Kenneth A. Mundt (USA); Michael Nasterlack (Germany); Krešimir Pavelić (Croatia); Maja Peraica (Croatia); Martina Piasek (Croatia); Mirjana Radenković (Serbia); Zoran Radić (USA); Miloš B. Rajković (Serbia); Venerando Rapisarda (Italy); Peter Raspor (Slovenia); Biserka Ross (UK); Zvonko Rumboldt (Croatia); Yusuf Sevgiler (Turkey); Nikolajs Sjakste (Latvia); Emil Srebočan (Croatia); Krešimir Šega (Croatia); Horst Thiermann (Germany); Andreas Thrasyvoulou (Greece); Christopher M. Timperley (UK); Alain Verstraete (Belgium); Carla Viegas (Portugal); Slavica Vučinić (Serbia); Robert Winker (Austria)
Indexed in
SCI-Expanded,
Medline/PubMed,
Scopus,
Animal Science Database,
Biological Sciences (CSA),
BIOSIS Previews,
GreenFile,
INIS,
Pollution Abstracts,
Veterinary Science Database,
Water Resources Abstracts,
EBSCO Academic Search Complete,
TEMA,
TOXLINE,
AGRIS,
Food Science and Technology Abstracts – FSTA,
Ergonomic Abstracts.
Authors
All authors who wish to submit their manuscripts for possible publication in the Archives are advised to first read the
Statistics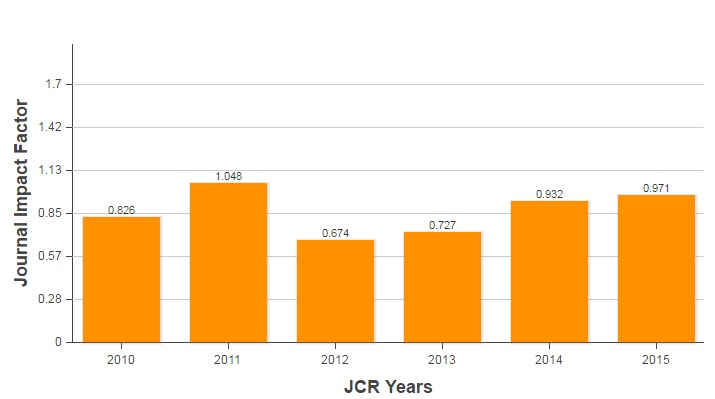 The Impact Factor of the Archives of Industrial Hygiene and Toxicology since the journal's inclusion into the
Web of Science
database
The SJR is a size-independent prestige indicator that ranks journals by their 'average prestige per article'. It is based on the idea that 'all citations are not created equal'. SJR is a measure of scientific influence of journals that accounts for both the number of citations received by a journal and the importance or prestige of the journals where such citations come from It measures the scientific influence of the average article in a journal, it expresses how central to the global scientific discussion an average article of the journal is.